☰

Epoxies & Adhesives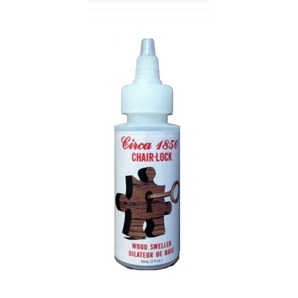 Circa 1850 Chair-Loc Wood Sweller
Circa 1850 Chair-Loc is a unique product designed to tighten loose joints. Chair-Loc is not a glue. It expands the wood fibres to provide a tight fit. Chair-Loc can be used to fix wobbly chair rungs and table legs and to tighten the handles of kitchen, household and garden tools.
For best results, separate parts, remove dry glue, and lightly sand all surfaces. If parts fit very loosely, wrap a strip of cotton cloth around part to be inserted. Apply Chair-Lock to all surfaces and press parts together. For joints that are loose but do not come apart, apply Chair-Lock at joint and wiggle to work Chair-Lock deep into joint.
Product Code: 1201
Size:
Case Pack:
60 mL (2 oz)
12
FIXES LOOSE HANDLES
EXPANDS WOOD FIBRES FOR A TIGHT FIT
TIGHTENS WOBBLY CHAIR RUNGS
STRONGER BOND THAN THAT OF ORDINARY GLUE
CLEAN UP: SOAP AND WATER
Our products are available at many retail locations. To find a store near you, please click on WHERE TO BUY.
You may also purchase our products using our online store by clicking BUY NOW CANADA or BUY NOW USA.
No demonstration available.