☰

Accessories & Tools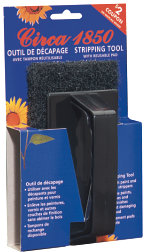 Circa 1850 Stripping Tool
Circa 1850 Stripping Tool helps to effectively remove paint, varnish and other finishes which have been softened by paint strippers, such as Circa 1850 Furniture Stripper, Heavy Body Paint & Varnish Remover and Soft•Strip. The reusable synthetic pads will not scratch or gouge most surfaces - and will not rust. The Circa 1850 Stripping Tool replaces #2 and #3 (medium and coarse) steel wool.
Each pad measures 9x16.5 cm (3.5x6.5 in).
Carefully follow the label instructions and cautions for the paint stripper. Brush a liberal amount of paint stripper onto the surface. Wait several minutes for the finish to bubble or dissolve. Using the same brush, or the Circa 1850 Maple Scraper, remove the old finish from the surface. Apply a small amount of paint stripper onto the surface. Using the Circa 1850 Stripping Tool, brush the surface to remove the residue finish. To avoid scratching the surface, work with the grain and use only as much pressure as is required for removing the finish. Once the stripping pad becomes clogged with residue, remove the pad and use the reverse side.
TO REPLACE PAD: Pull off used pad. Place new pad onto handle. Push and twist to lock pad onto handle.
Product Code: 1302
Size:
Case Pack:
Tool with Reusable Pad
6
Replacement Pads
6 pairs
USE WITH PAINT & VARNISH REMOVERS
WILL NOT DAMAGE THE WOOD
DURABLE AND REUSABLE
Our products are available at many retail locations. To find a store near you, please click on WHERE TO BUY.
You may also purchase our products using our online store by clicking BUY NOW CANADA or BUY NOW USA.
No demonstration available.