☰

Accessories & Tools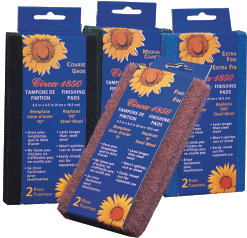 Circa 1850 Finishing Pads
Circa 1850 Finishing Pads are replacements for steel wool. They will not splinter or shred, and are easily rinsed out for repeated usage. Circa 1850 Finishing Pads are ideal for stripping paint, removing rust, sanding between coats and general sanding.
Circa 1850 Finishing Pads are available in the following grades: Coarse, Medium Coarse, Fine and Extra Fine.
Each pack contains two 9x16.5 cm (3.5x6.5 in) pads.
Depending on the type of work you are doing, you will need to choose the appropriate finishing pad. As a rule of thumb, it is advisable to always wear gloves when in contact with any solvent, caustic, or acid.
COARSE (BLACK) Replaces #3 Steel Wool.
Ideal for Stripping paint and varnish; Removing heavy rust; Heavy duty cleaning
MEDIUM COARSE (GREEN) Replaces #2 Steel Wool.
Ideal for Removing finish with strippers; Cleaning rust from metal; Preparing wood for painting
FINE (BURGUNDY) Replaces 0 Steel Wool.
Ideal for Between-coat buffing; Smoothing wood before finishing; Final cleaning of old finishes
EXTRA FINE (BLUE) Replaces 000 Steel Wool.
Ideal for Final finishing on woodwork; Buffing cabinet work and metal; Removing paint drips and splatters.
Product Code: 1304
Size:
Case Pack:
Coarse Grade
12 pairs
Medium Grade
12 pairs
Fine Grade
12 pairs
Extra Fine Grade
12 pairs
LASTS LONGER THAN STEEL WOOL
EASILY RINSED FOR REPEATED USE
WILL NOT SPLINTER, RUST OR SHRED
PAD DIMENSION: 9x16.5 cm (3.5x6.5 in)
Our products are available at many retail locations. To find a store near you, please click on WHERE TO BUY.
You may also purchase our products using our online store by clicking BUY NOW CANADA or BUY NOW USA.
No demonstration available.