☰

Accessories & Tools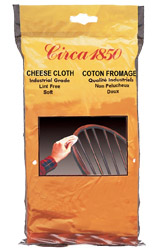 Circa 1850 Cheese Cloth
Circa 1850 Cheese Cloth is a premium quality cheese cloth that is finely woven (20x12 count) from highly absorbent, lint free, pre-washed 100% cotton. It is specifically produced for use in the application of stains, gel finishes, oil finishes, waxes, French polishes and faux finishes.
Cheese cloth dimension is 2.74 m² (3 yd²).
Use the premium quality cheese cloth to apply stains, oil finishes, gel finishes, waxes and french polish to all surfaces.
Product Code: 1310
Size:
Case Pack:
3 sq yards
24
FINELY WOVEN
PREMIUM GRADE
HIGHLY ABSORBANT
LINT FREE
Our products are available at many retail locations. To find a store near you, please click on WHERE TO BUY.
You may also purchase our products using our online store by clicking BUY NOW CANADA or BUY NOW USA.
No demonstration available.