☰

Accessories & Tools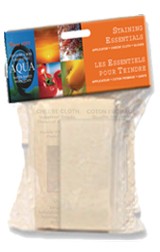 Circa 1850 Staining Essentials
Circa 1850 Staining Essentials is a simple kit with all the items needed to apply both water-based and oil-based stains. Can also be used to apply oils and varnishes.
Kit includes stain applicator (soft sponge with a quality cotton absorbent cover), pair latex gloves and premium quality cheese cloth 2.74m² (3 yds.²)
Use the soft sponge applicator or premium quality cheese cloth to apply stains or oil finishes to all surfaces. For Circa 1850 AQUA Wood Stain, use either applicator to wipe the stain in the direction of the grain. If desired, apply a second coat after 30 minutes. Let dry for 24 hours prior to applying a finish.
Product Code: 1315
Size:
Case Pack:
Kit
12
SOFT SPONGE APPLICATOR
PREMIUM CHEESE CLOTH
LATEX GLOVES
Our products are available at many retail locations. To find a store near you, please click on WHERE TO BUY.
You may also purchase our products using our online store by clicking BUY NOW CANADA or BUY NOW USA.
No demonstration available.