☰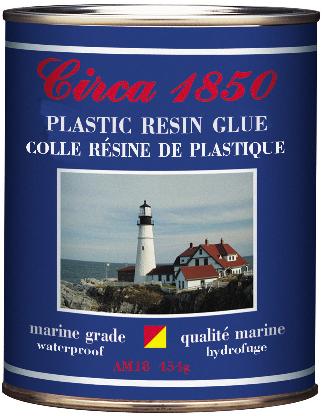 Circa 1850 Plastic Resin Glue
Circa 1850 Plastic Resin Glue is a powdered, pre-catalyzed adhesive.Once mixed with water and applied to wood surfaces, it forms a high strength,water-resistant bond that is stronger than wood itself. Circa 1850 Plastic Resin Glue is resistant to fungi, bacteria, oil, and most solvents. It is ideal for veneering, laminating,edge gluing, chopping blocks, cutting boards and countertops.
Slowly dissolve 2 parts powder into 1 part COLD water. Mix thoroughly to a syrupy consistency.
Once mixed, the mixture begins curing immediately. The mixture has a pot life of 4 hours at 20℃, 2 hours at 25℃, and 1 hour at 30℃.
Brush on a thin coat to both surfaces and apply moderate pressure. High pressure is required for rough wood, and plywood. For best results, apply enough pressure so that excess glue squeezes out of edges. Apply pressure for a period of 5 hours (30℃) up to 12 hours (20℃).
Product Code: 1518
Size:
Case Pack:
454 g (1 lb)
6
2.5 kg (5.5 lb)
4
PRECATALYZED POWDER
HIGH STRENGTH
WATER RESISTANT
MAX COVERAGE: 3.7m²/454g (40ft²/454g)
CLEAN UP: SOAP AND WATER
Our products are available at many retail locations. To find a store near you, please click on WHERE TO BUY.
You may also purchase our products using our online store by clicking BUY NOW CANADA or BUY NOW USA.
No demonstration available.