☰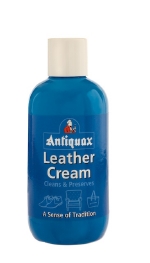 Antiquax Leather Cream
Antiquax Leather Cream cleans and protects your leather. The oils in Leather Cream feed the grain to keep the fibres supple and restore the natural oils lost due to drying effects and exposure to sunlight. Leather Cream is suitable for antique and modern leather.
Antiquax can be applied onto new or antique leather. Apply Antiquax with a clean cotton cloth. Wait 15 minutes and buff with a clean cloth. Use Antiquax on all your leather on a regular basis for long lasting protection.
Product Code: 1606
Size:
Case Pack:
100 mL
12
CLEANS AND PROTECTS LEATHER
KEEPS FIBRES SUPPLE
SUITABLE FOR ANTIQUE LEATHER
Our products are available at many retail locations. To find a store near you, please click on WHERE TO BUY.
You may also purchase our products using our online store by clicking BUY NOW CANADA or BUY NOW USA.
No demonstration available.