☰

Paint & Varnish Removers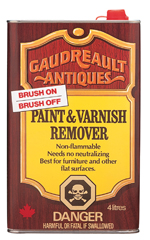 Gaudreault Antiques Brush-On Remover
Gaudreault Antiques Brush-On Remover is a non-flammable paint and varnish remover that needs no neutralizing. Recommended for furniture and flat surfaces. Fast-acting with minimal odour. Effective on epoxy, urethane, and new and old finishes.
Avoid working in direct sunlight or wind. Wear Circa 1850 Stripping Gloves and protective eyewear and work in a well ventilated area. Protect work area with polyethylene or foil sheet. Pour some stripper into a foil or metal container. Brush a generous coat onto 0.1-0.4m² (1-4ft²) of surface and let stand for a few minutes or until paint blisters. Keep area being stripped completely saturated with stripper. If stripper dries out, reapply to reactivate. Remove softened finish using the paint brush or a scraper. Use Circa 1850 Maple Scraper to avoid gouging wood surfaces. If finish is exceptionally thick and some residue remains, repeat the procedure. Remove finish residue with Circa 1850 Finishing Pads or steel wool dipped in remover. Allow surface to dry. Sand wood surfaces lightly prior to staining or refinishing.
For exterior use or vertical surfaces use Gaudreault Antiques Heavy Body Remover.
Contents may be under pressure. Place rag over cover and open slowly. If container is warm, cool prior to opening. Do not use near open flame.
Product Code: 1700
Size:
Case Pack:
500 mL (1 pt)
12
1 L (1 qt)
12
3.78 L (1 gal)
2
18.9 L (5 gal)
1
NON-FLAMMABLE
NEEDS NO NEUTRALIZING
FAST ACTING
Our products are available at many retail locations. To find a store near you, please click on WHERE TO BUY.
You may also purchase our products using our online store by clicking BUY NOW CANADA or BUY NOW USA.
No demonstration available.