☰

Waxes, Polishers & Cleaners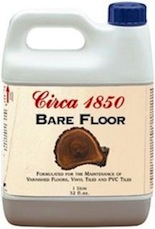 Circa 1850 Bare Floor
Circa 1850 Bare Floor is formulated to clean wood, vinyl and laminate floors. It quickly and easily removes dirt and grime, shoe marks and stains. Circa 1850 Bare Floor is an environmentally safe alternative to strong acids and ammonia. It is odourless, non-caustic, and non-corrosive. Circa 1850 Bare Floor does not contain any phosphates and is safe to use on all surfaces - indoors and outdoors.
AUTOMATIC SCRUBBERS: Add 10mL of the concentrate to 1L of warm water. MOP: Add 15mL of the concentrate to 1L of warm water. Apply enough of the diluted cleaner to wet the surface. Do not overapply the cleaner or leave puddles. Wipe up excess spills immediately. Never use abrasive or alkaline cleaners. Never use hot water. Remove tar, heel marks, shoe polish and other stains using Circa 1850 Furniture Cleaner or Circa 1850 Super DeGooper using a soft cloth.
Product Code: 1821
Size:
Case Pack:
1 L (1 qt)
6
4 L (1 gal)
2
PLEASANT ODOUR
NON CAUSTIC
CONTAINS NO PHOSPHATES
BIODEGRADABLE
Our products are available at many retail locations. To find a store near you, please click on WHERE TO BUY.
You may also purchase our products using our online store by clicking BUY NOW CANADA or BUY NOW USA.
No demonstration available.