☰

Paint & Wallpaper Primers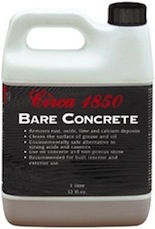 Circa 1850 Bare Concrete
Circa 1850 Bare Concrete is formulated to clean and prime concrete surfaces prior to painting. It quickly and easily dissolves white efflorescent salts, rust stains, and most oil and grease spots. It slightly etches the concrete surface to maximize the adhesion of oil, latex and epoxy paints,as well as acrylic sealers. Circa 1850 Bare Concrete is an environmentally safe alternative to strong acids and caustic. It is odourless, non-caustic, and non-corrosive. Circa 1850 Bare Concrete does not contain any phosphates and is safe to use on all concrete surfaces - indoors and outdoors.
Wait a minimum of 30 days after pouring new concrete prior to using Circa 1850 Bare Concrete. For previously painted or sealed surfaces, scrape off any loose paint or sealer. Always test in an inconspicuous location prior to using Circa 1850 Bare Concrete on natural stones. Apply Circa 1850 Bare Concrete directly the concrete surface. Rub lightly with a brush or broom to remove rust, oxide, lime deposits, calcium, etc. For best results, rinse with water immediately after application. Allow the surface to dry thoroughly (24 hr under normal conditions) prior to painting.
Product Code: 1823
Size:
Case Pack:
1 L (1 qt)
6
4 L (1 gal)
2
PLEASANT ODOUR
NON CAUSTIC
CONTAINS NO PHOSPHATES
BIODEGRADABLE
Our products are available at many retail locations. To find a store near you, please click on WHERE TO BUY.
You may also purchase our products using our online store by clicking BUY NOW CANADA or BUY NOW USA.
No demonstration available.