☰

Waxes, Polishers & Cleaners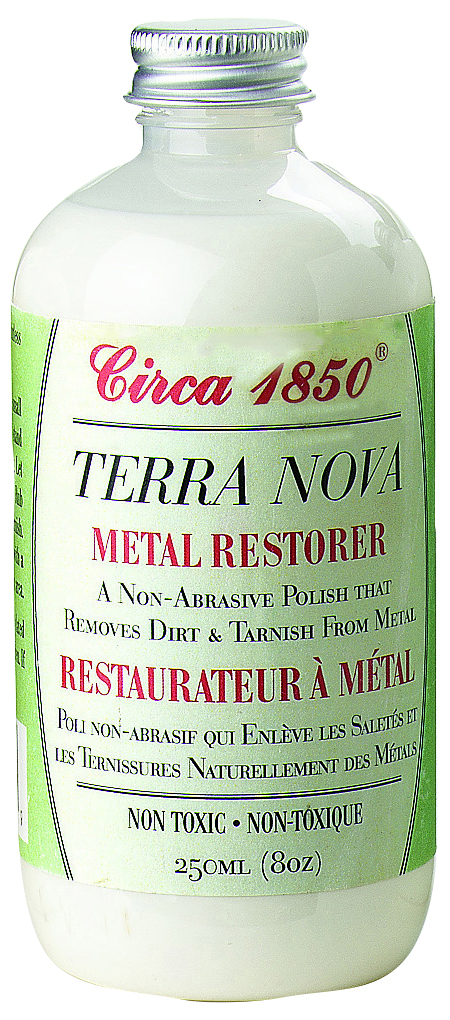 Terra Nova Metal Restorer
Circa 1850 Terra Nova Metal Restorer quickly and effectively removes dirt and tarnish from metal. For use on silver, brass, copper, stainless steel, pewter and chrome. Will not scratch surface. It polishes metals to a smooth, lustrous shine.

Terra Nova products are non-toxic and environmentally friendly.
Shake well. Apply a small quantity of Metal Restorer with a soft cloth. Rub surface gnetly to loosen dirt and tarnish. repeat if necessary. Let dry. Polish with a clean soft cloth. Test first before using on plated metal.
Product Code: 2102
Size:
Case Pack:
250 mL (8 oz)
6
SAFE, ENVIRONMENTALLY-FRIENDLY
NON-TOXIC, ODOURLESS
WILL NOT DISSOLVE METAL
SAFE FOR STAINLESS STEEL, CHROME, BRASS, COPPER AND SILVER
Our products are available at many retail locations. To find a store near you, please click on WHERE TO BUY.
You may also purchase our products using our online store by clicking BUY NOW CANADA or BUY NOW USA.
No demonstration available.