☰

Waxes, Polishers & Cleaners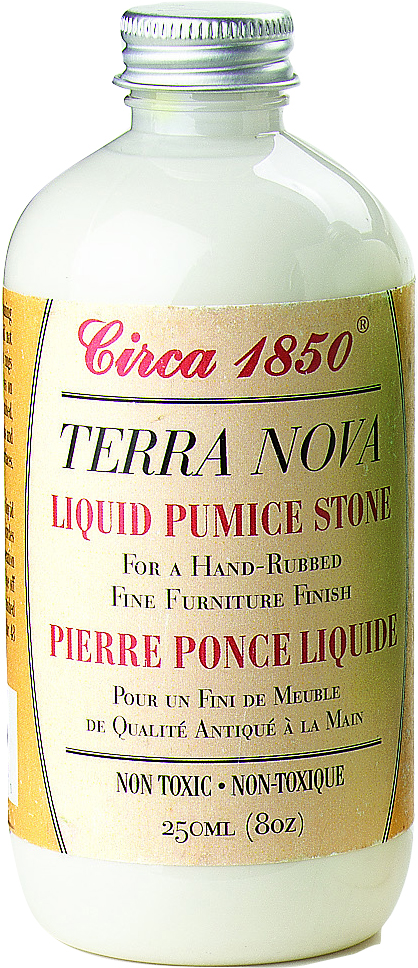 Terra Nova Liquid Pumice Stone
Circa 1850 Terra Nova Liquid Pumice Stone cleans and polishes in one easy step. It is ideal for removing scratches and white rings from varnished and lacquered furniture. Liquid Pumice Stone is used by professional cabinetmakers to achieve a hand-rubbed uniform gloss finish on fine furniture. It is an ideal cleaner for solid brass and copper, and will polish stone and corian to a high shine.
Terra Nova products are non-toxic and environmentally friendly.
Shake well. Apply Liquid Pumice Stone to a clean cloth and rub in circles into the surface to be cleaned. Repeat operation, but this time following the wood grain. Wipe off thoroughly with clean cloth. Newly varnished surfaces should be allowed to harden for 48 hours before using the pumice treatment.
Product Code: 2103
Size:
Case Pack:
250 mL (8 oz)
6
SAFE, ENVIRONMENTALLY-FRIENDLY
NON-TOXIC
REMOVES HAIR LINE SCRATCHES AND WHITE RINGS FROM FURNITURE
LOWERS SHEEN FROM HIGH GLOSS LACQUERS, FINISHES, ETC.
SAFE FOR POLISHING MARBLE AND CORIAN
Our products are available at many retail locations. To find a store near you, please click on WHERE TO BUY.
You may also purchase our products using our online store by clicking BUY NOW CANADA or BUY NOW USA.
No demonstration available.