☰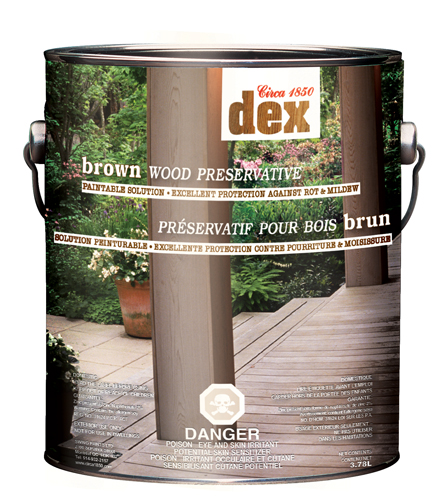 Circa 1850 DEX BROWN Wood Preservative
Circa 1850 DEX Brown Wood Preservative is a paintable wood preservative that provides a brown finish. It is developed exclusively for exterior, above ground use. It provides paintable protection against rot and mildew and is designed for projects where a brown change is desired. It is ideal for the protection of decks, fences, doors, sashes, window frames, outdoor furniture and millwork.
For exterior use only. Not for use in dwellings. For above ground use only. Apply by brush only. Do not spray or dip. Do not use this wood preservative or treated wood where this wood preservative may contaminate food, feed or drinking water.
Circa 1850 Dex Brown Wood Preservative is only to be applied onto bare wood or wood previously finished with any of the Circa1850 Dex wood preservatives.
Wood surface should be clean and dry. Remove all paint, varnish, wax or any other coating that may prevent penetration with Circa 1850 Soft•Strip. Allow to dry thoroughly before application or re-coating. Use caution with some paint finishes as they may cause bleeding.
Use as supplied - do not dilute. Do not apply to wood or any surface where prolonged skin contact may occur. May be used on greenhouse and garden timbers in close contact with non-food producing plants only. Carrier solvent must be allowed to dry before introducing plants to prevent phytotoxicity. Allow to dry thoroughly before permitting contact.
Brush on 2 liberal coats; heavy lumber may require more treatment. If rotting conditions are severe, allow to dry thoroughly before applying additional coats by brushing only. Allow 72 hours to dry.
Product Code: 2302
Size:
Case Pack:
946 mL (1 qt)
6
3.78 L (1 gal)
2
ZINC BASED PRESERVATIVE
PROTECTS AGAINST ROT AND MILDEW
BROWN PAINTABLE FINISH
Our products are available at many retail locations. To find a store near you, please click on WHERE TO BUY.
You may also purchase our products using our online store by clicking BUY NOW CANADA or BUY NOW USA.
No demonstration available.