☰

Paint & Wallpaper Primers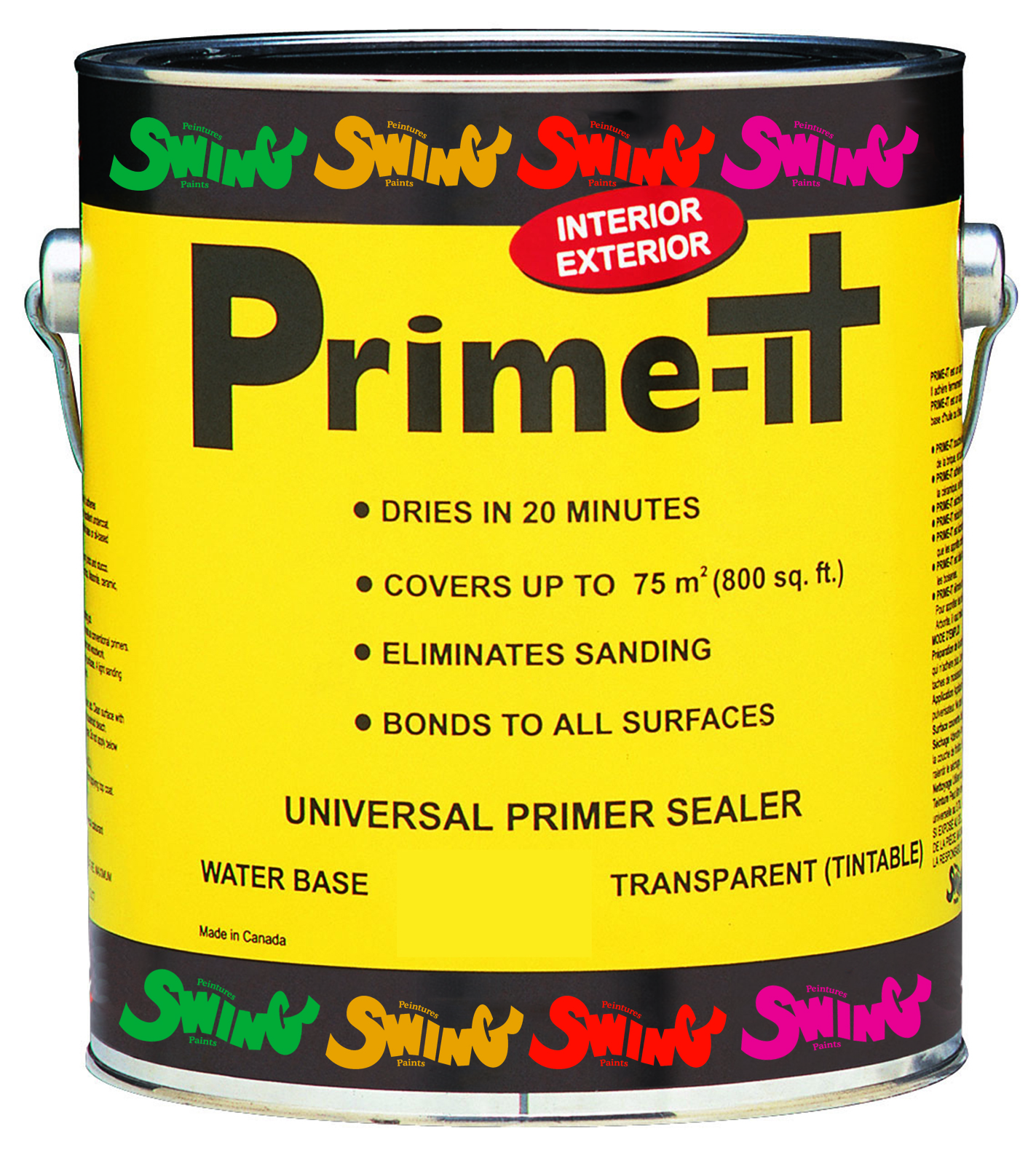 Swing Prime-It
Prime-it is an acrylic primer that performs like sandpaper and sealer all in one. It is the only universal primer that goes on virtually any surface and under virtually any paint. Prime-it totally eliminates the need for sanding most glossy surfaces. Prime-it goes on in half the time and covers twice the area of other conventional primers. It dries on most surfaces in 20 minutes and is ready for painting in 4 hours.
Prime-it can be applied onto most surfaces, including new drywall, plaster, paint and glossy surfaces.
SURFACE PREPARATION: Remove loose paint, rust, plaster, etc. Clean surface with TSP and warm water. Remove existing mildew with household bleach.
APPLICATION: Stir Prime-it until consistent throughout can. Do not apply below 10C (50F). Apply Prime-it with brush, roller, or spray.
DRY TIME: Allow 4 hours (24 hours on non-absorbant surfaces) under normal conditions before applying top coat. High humidity or low temperatures may slow drying..
COVERAGE: Up to 75m² (800ft²) per 3.78L.
CLEAN-UP: Clean up with soap and water.
Product Code: 3100
Size:
Case Pack:
946 mL (1 qt)
6
3.78 L (1 gal)
4
18.9 L (5 gal)
1
100% PREMIUM ACRYLIC PRIMER
USE ON ANY SURFACE, UNDER ANY PAINT
FOR INTERIOR AND EXTERIOR USE
MAX COVERAGE: 18m²/L (200ft²/qt)
CLEAN UP: SOAP AND WATER
Our products are available at many retail locations. To find a store near you, please click on WHERE TO BUY.
You may also purchase our products using our online store by clicking BUY NOW CANADA or BUY NOW USA.
No demonstration available.