☰

Paint & Wallpaper Primers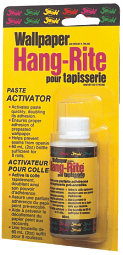 Swing Wallpaper Hang-Rite
Wallpaper Hang-Rite is a patented paste activator for prepasted wallpaper. It is a concentrated solution that is added to the water in the wallpaper tray to prevent insufficient wetting as well as paste wash-off. As soon as the prepasted wallpaper is placed into the water, Wallpaper Hang-Rite activates the paste - ensuring that the paste remains on the paper and is not washed off into the water itself. Wallpaper Hang-Rite allows more time to properly position the wallpaper and will help prevent seams from opening. The 60 ml (2 oz) size is sufficient for 8 rolls of wallpaper.
Fill water box 2/3 full with warm water. Add 1oz Wallpaper Hang-Rite and gently stir. Soak paper in the water solution for the length of time recommended by the manufacturer (10-60 sec). Draw the paper up and hang it. For best results apply a coat of Wallpaper Prep-Coat to wall prior to hanging.
Product Code: 3150
Size:
Case Pack:
60 mL (2 oz)
24
ACTIVATES PASTE
ENSURES PROPER WETTING
ELIMINATES PASTE WASH-OFF
Our products are available at many retail locations. To find a store near you, please click on WHERE TO BUY.
You may also purchase our products using our online store by clicking BUY NOW CANADA or BUY NOW USA.
No demonstration available.