☰

Paint & Varnish Removers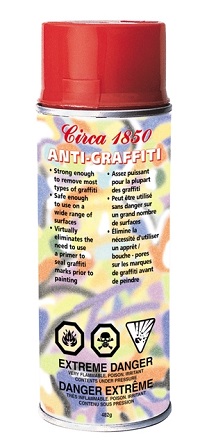 Circa 1850 Anti-Grafitti
Circa 1850 Anti-Grafitti is strong enough to remove most types of graffiti. It is safe enough to use on a wide range of surfaces. Circa 1850 Anti-Grafitti gel formula clings to vertical surfaces.
Avoid working in direct sunlight or wind. Wear Circa 1850 Stripping Gloves and protective eyewear. Protect work area with polyethylene or foil sheet. Shake can well. Point nozzle towards area, holding can 20-30cm (8-12in) from surface. Let stand for a few minutes or until the graffiti begins to soften or dissolve. On non-porous surfaces, a rag or water spray may be used to remove the graffiti. On porous surfaces, a scrub brush or power washer may be used to remove the graffiti. Reapply Circa 1850 Anti-Graffiti if required.
Product Code: 3208
Size:
Case Pack:
Aerosol (482g)
6
REMOVES GRAFFITI
SAFE FOR MOST SURFACES
GEL FORMULA CLINGS TO SURFACES
Our products are available at many retail locations. To find a store near you, please click on WHERE TO BUY.
You may also purchase our products using our online store by clicking BUY NOW CANADA or BUY NOW USA.
No demonstration available.