☰

Paint & Wallpaper Primers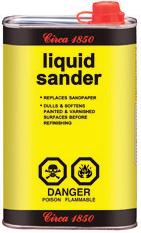 Circa 1850 Liquid Sander
Circa 1850 Liquid Sander is formulated to replace sandpaper. It dulls existing painted and varnished surfaces, while improving the adhesion of the new finish.
Always test on inconspicuous area before using on plastics, painted surfaces. With a moistened cloth wipe surface to be refinished until it is slightly sticky. Apply new finish coat of enamel or varnish within 30 minutes. Before applying a water-based finish, allow the surface to dry completely (no longer tacky). When finishing rough surfaces, moisten sandpaper with Liquid Sander to smooth out high spots and provide better adhesion.
Product Code: 3211
Size:
Case Pack:
500 mL (1 pt)
12
1 L (1 qt)
12
REPLACES SANDPAPER
DULLS AND SOFTENS FINISHES
IMPROVES ADHESION
Our products are available at many retail locations. To find a store near you, please click on WHERE TO BUY.
You may also purchase our products using our online store by clicking BUY NOW CANADA or BUY NOW USA.
No demonstration available.