☰

Wood Stains & Varnish Stains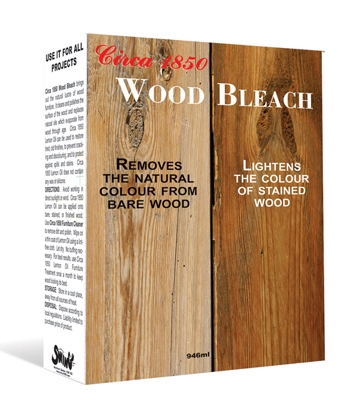 Circa 1850 Wood Bleach
Circa 1850 Wood Bleach is a powerful two-component bleach for wood. It is formulated to remove the natural colour from bare wood, lighten the colour of stained wood, and remove the greying effect of wood that has been exposed to the elements.
Prior to working on your main project, it is always advisable to TEST the product on a scrap piece of the same species of wood. Make sure all surfaces are completely dry and free of grease, oil, wax or any finish. Use Circa 1850 Furniture Cleaner or Swing TSP Concentrate solution to remove grease, oil, or wax, and allow surface to dry. Use a plastic drop cloth to protect all areas surrounding the working surface. Sand all wood surfaces in the direction of the grain with either a Circa 1850 Finishing Pad (coarse) or sand paper (180 grit). Remove all dust from the wood surface using compressed air or vacuum.
In a clean, plastic container, mix equal quantities of PARTS A and B. Do not mix more than is required for one application. Using a synthetic paint brush or sponge, apply a coat of the new mixture. Ensure the solution does not puddle on the surface. The bleach should activate immediately. Allow the wood to dry for a minimum of 3 hours. Reapply a new mixture of bleach if additional lightening is desired.
Once the desired appearance has been achieved, the surface needs to be neutralized. In a separate clean, plastic container, mix one part white vinegar with 2 parts warm water. Apply the diluted vinegar to the surface using a synthetic paint brush or sponge. Ensure the solution does not puddle on the surface. Allow to dry thoroughly for a minimum of 24 hours. After the surface has thoroughly dried, sand the wood if desired to remove any grain raise or rough areas. Follow the label directions for sanding for any finish that will be used. Click here for detailed instructions.
Product Code: 3220
Size:
Case Pack:
946 mL (1 qt)
6
7.56 L (2 gal)
2
TWO-COMPONENT BLEACH
BLEACHES WOOD
LIGHTENS STAINS
REMOVES GREY
Our products are available at many retail locations. To find a store near you, please click on WHERE TO BUY.
You may also purchase our products using our online store by clicking BUY NOW CANADA or BUY NOW USA.