☰

Wood Stains & Varnish Stains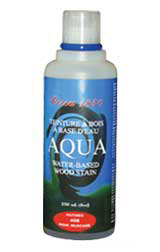 Circa 1850 AQUA Wood Stain
Circa 1850 AQUA is a water-based wood stain made with the finest ingredients. It is formulated to highlight the natural grain of unfinished wood without the need for a pre-stain conditioner. Circa 1850 AQUA eliminates overlap marks and grain raising, providing uniform, beautiful colour. Circa 1850 Aqua Wood Stain is available in 30 vibrant woodtone and designer colours.
Circa 1850 AQUA can be applied onto any unfinished wood surface, including floors, furniture and woodwork. Make sure the wood surface is clean, dry and free from any finish. Use Circa 1850 Furniture Cleaner to remove all dirt, wax and polish. Use Circa 1850 Furniture Stripper, Heavy Body Paint & Varnish Remover, or Soft•Strip to remove existing finishes. Sand thoroughly in wood grain direction. Progress from higher to lower grit sandpaper as follows:
150 --> 180 (soft woods - pine, fir, spruce, etc.)
120 --> 150 (hard woods - oak, ash, birch, maple, etc.)
If a paler colour is desired, sand the wood with finer grit sandpaper, such as 220 or 300. Shake contents vigorously to ensure no pigments remain on the bottom of the bottle. Stir contents occasionally during use. Working in small sections apply Circa 1850 AQUA with a brush or cloth. Use a cloth to wipe the stain in the direction of the grain. If desired, apply a second coat after 30 minutes. Let dry for 24 hours prior to applying a finish.
Product Code: 400
Size:
Case Pack:
125 mL (4 oz)
6
250 mL (8 oz)
6
WATER BASED
ODOURLESS
NO CONDITIONER REQUIRED
NO OVERLAP MARKS
MAX COVERAGE: 9m²/L (100ft²/qt)
CLEAN UP: SOAP AND WATER
Our products are available at many retail locations. To find a store near you, please click on WHERE TO BUY.
You may also purchase our products using our online store by clicking BUY NOW CANADA or BUY NOW USA.
No demonstration available.