☰

Wood Stains & Varnish Stains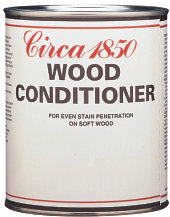 Circa 1850 Wood Conditioner
Circa 1850 Wood Conditioner is formulated to penetrate into the wood fibres to provide a uniform surface for staining. Circa 1850 Wood Conditioner prevents the blotching and spotting that results from inconsistent stain absorption in areas of loose and tight grain density. Uneven staining is most common on soft woods, such as pine, birch,and spruce. Always use Circa 1850 Wood Conditioner prior to staining end grains.
Before applying stain to raw wood press your fingernail against a hidden section of the wood. If you make a dent, the wood probably needs conditioning to avoid an uneven stain colour. Apply Circa 1850 Wood Conditioner to the entire wood surface, especially the edges. Allow to dry 5 to 15 minutes, then remove excess with a clean cloth. Stain anytime within 2 hours after application of Wood Conditioner.
Product Code: 705
Size:
Case Pack:
250 mL (½ pt)
6
1 L (1 qt)
4
3.78 L (1 gal)
2
CONDITIONS WOOD
PREVENTS BLOTCHING
LOW ODOUR
MAX COVERAGE: 18m²/L (200ft²/qt)
CLEAN UP: MINERAL SPIRITS
Our products are available at many retail locations. To find a store near you, please click on WHERE TO BUY.
You may also purchase our products using our online store by clicking BUY NOW CANADA or BUY NOW USA.