☰

Wood Stains & Varnish Stains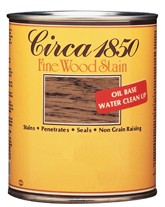 Circa 1850 Fine Wood Stain
Circa 1850 Fine Wood Stain is designed to provide uniform staining on all unfinished interior wood surfaces. As a true oil-based stain, it highlights the natural grain of wood without causing any grain raise. As a "water-wash", Circa 1850 Fine Wood Stain is formulated to clean up easily with water.
Circa 1850 Fine Wood Stain is available in 13 wood tones.
Make sure wood surface is clean, dry and free from any finish. Sand wood surface with fine sandpaper. Use Circa 1850 Wood Conditioner on soft woods and end grains prior to staining to assure uniform colour. Apply Circa 1850 Fine Wood Stain with a brush or cloth. Wait 10 minutes then wipe off any excess. Clean up brushes, cloths, hands, etc., with warm water. Apply a second coat after 12 hours. Let dry for 24 hours prior to applying any finish.
Product Code: 709
Size:
Case Pack:
250 mL (½ pt)
6
1 L (1 qt)
4
3.78 L (1 gal)
2
OIL-BASED
NO GRAIN RAISE
MAX COVERAGE: 18m²/L (200ft²/qt)
CLEAN UP: SOAP AND WATER
Our products are available at many retail locations. To find a store near you, please click on WHERE TO BUY.
You may also purchase our products using our online store by clicking BUY NOW CANADA or BUY NOW USA.