☰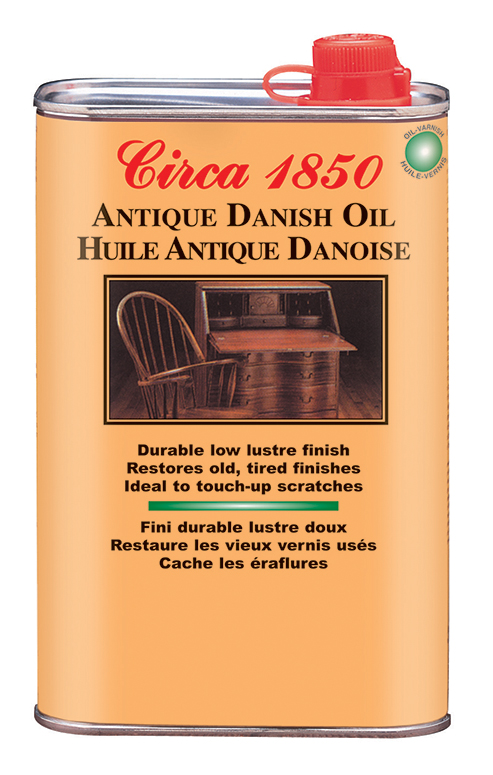 Circa 1850 Antique Danish Oil
Circa 1850 Antique Danish Oil provides a beautiful hand-rubbed finish while protecting wood against spills and stains. It is recommended for use on all interior wood surfaces - including paneling, woodwork, hardwood floors, and wood furniture. Circa 1850 Antique Danish Oil can also be used as a touch-up for scratches and to restore old tired finishes.
Antique Danish Oil comes in Natural and Walnut.
Circa 1850 Antique Danish Oil can be applied onto bare, stained or finished wood.
SURFACE PREPARATION: Sand new wood to obtain a smooth, uniform surface. For existing woodwork or furniture, use Circa 1850 Furniture Cleaner to remove dirt and polish.
APPLICATION: Avoid working in direct sunlight or wind. Stir contents thoroughly prior to and during application. Do not shake. Apply without dilution. Wipe or brush on a thin coat of Circa 1850 Antique DanishOil using a lint-free cloth, a pure bristle brush or a lambskin applicator. Apply evenly with long strokes in the direction of the grain. Buff evenly with long strokes in the direction of the grain until the oil finish is uniform. Allow to dry for at least 24 hours. Lightly sand the surface, remove all dust and apply a second or third coat as above.
DRY TIME: Allow 24 hours prior to normal use. Avoid heavy traffic for at least 72 hours. Dry time may be affected by high humidity, temperatures below 20C (68F), or application of thick coats.
COVERAGE: Up to 10m² (100ft²) per 946mL.
CLEAN-UP: Clean up using Klenk's Mineral Spirits, Klenk's Paint Thinner or Circa 1850 Pure Turpentine.
Product Code: 760
Size:
Case Pack:
250 mL (½ pt)
12
1 L (1 qt)
12
HAND-RUBBED FINISH
IDEAL FOR SCRATCHES
RENEWABLE
MAX COVERAGE: 9m²/L (100ft²/qt)
CLEAN UP: MINERAL SPIRITS
Our products are available at many retail locations. To find a store near you, please click on WHERE TO BUY.
You may also purchase our products using our online store by clicking BUY NOW CANADA or BUY NOW USA.