☰

Wood Stains & Varnish Stains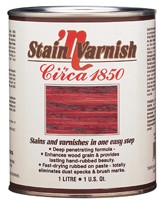 Circa 1850 Stain'n Varnish
Circa 1850 Stain'n Varnish is both a wood stain and a varnish finish in one. Its unique gel formulation maintains a consistent blend of stain and varnish throughout the can, so there's no mixing or stirring required. As a result, you ensure uniformity from the beginning of your project to the end. And because it's a gel, it goes on without runs, drips or brush marks. Stain'n Varnish can be used on virtually any surface including wood furniture, molding, paneling and floors, pottery, metal, plastic, fiberglass, masonite and composites (or composite doors).
Stain'n Varnish comes in 22 pre-mixed colours (and about a million custom-tinted colours) to suit any decor.
Circa 1850 Stain'n Varnish can be applied onto bare, stained or finished wood. Use Circa 1850 Furniture Cleaner to remove dirt and polish. Sand wood surface with fine sandpaper. With a lint-free cloth spread a generous coat of Stain'n Varnish over the surface and wipe off excess immediately. Rub evenly in the direction of the grain. Wait 8 hours then smooth lightly with very fine steel wool. Using a cloth slightly dampened with Stain'n Varnish, rub lightly with quick full length strokes in the direction of the grain. Continue until you don't feel any drag on the cloth, and the surface is smooth.
Product Code: 770
Size:
Case Pack:
250 mL (½ pt)
6
1 L (1 qt)
4
STAIN AND VARNISH IN ONE
DRIES QUICKLY
UNIQUE GEL
USE ON WOOD, PLASTIC, MASONITE, METAL, ETC.
MAX COVERAGE: 9m²/L (100ft²/qt)
CLEAN UP: MINERAL SPIRITS
Our products are available at many retail locations. To find a store near you, please click on WHERE TO BUY.
You may also purchase our products using our online store by clicking BUY NOW CANADA or BUY NOW USA.