☰

Bathtub Reglazing Epoxy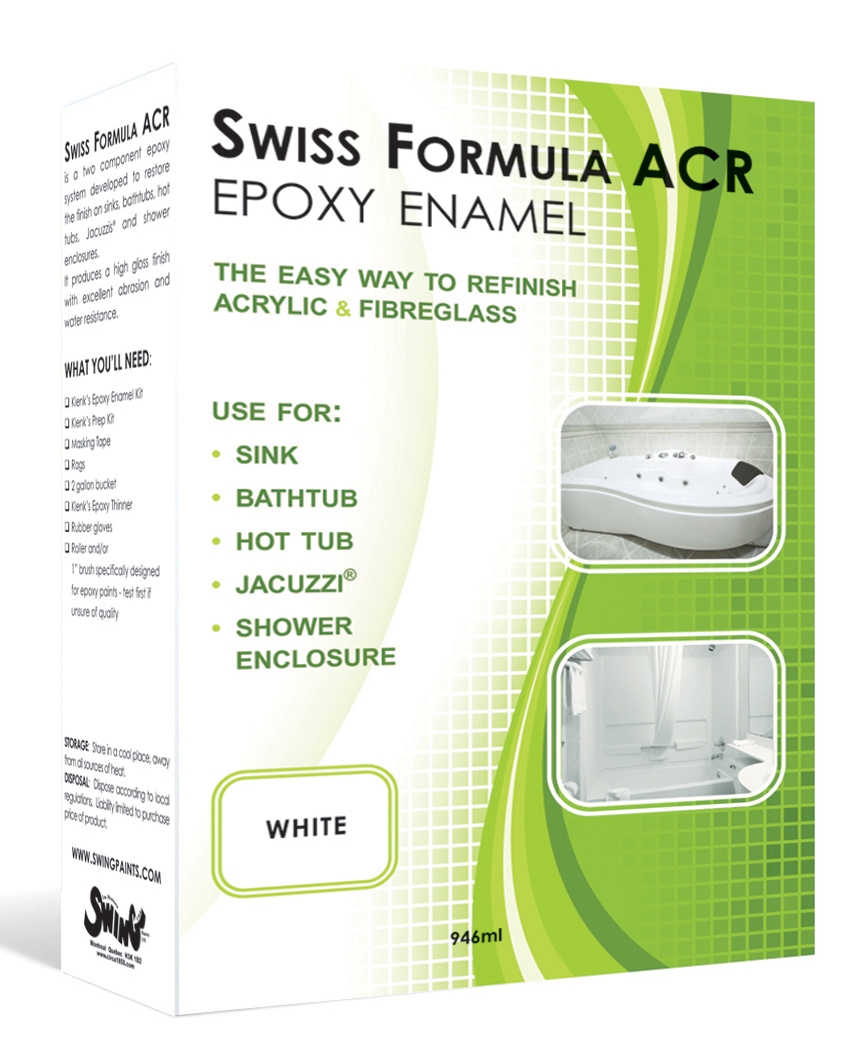 Klenk's Swiss Formula ACR
Swiss Formula ACR is an extremely hard and durable two-component epoxy for consumer and professional use. It is specially designed to restore the finish on acrylic and fibreglass tubs,sinks, hot tubs, spas and jacuzzis. Swiss Formula ACR is available in White, as well as special order colours.
Provide adequate ventilation, protective eyewear and clothing. Maintain a minimum temperature of 24C, and low humidity. Clean surface thoroughly using Swing TSP Powder. Sand the surface using fine sandpaper. Mix 1 part Epoxy Catalyst to 1 part Epoxy Paint and let stand for 1 hour. Brush or spray mixture onto surface. Apply a thin coat to avoid drips. If surface is dry, apply a second coat after 2-3 hours. If still tacky, store paint in freezer overnight and apply a second coat the next day. Apply a third coat if desired, or to cover dark colours. Wait at least 5 days before using painted surface.
Click here for detailed instructions.
Product Code: 8200
Size:
Case Pack:
946 mL (1 qt)
6
TWO-COMPONENT EPOXY
RESTORES THE FINISH ON ACRYLIC AND FIBREGLASS SHOWERS
HIGH GLOSS ABRASION RESISTANT FINISH
SAFE FOR USE ON HOT TUBS AND JACCUZIS
MAX COVERAGE: 6m²/L (70ft²/qt)
CLEAN UP: EPOXY THINNER
Our products are available at many retail locations. To find a store near you, please click on WHERE TO BUY.
You may also purchase our products using our online store by clicking BUY NOW CANADA or BUY NOW USA.