☰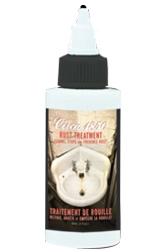 Circa 1850 Rust Treatment
Circa 1850 Rust Treatment is the perfect solution to clean, stop and prevent rust. Its fast-acting formula neutralizes rust and converts it into a tough, black primer - all in one easy step. Use Circa 1850 Rust Treatment as a finish or paint over it for maximum corrosion protection. No more sandblasting, heavy scraping, wire brushing or grinding.
Remove loose rust. Brush Circa 1850 Rust Treatment onto the surface and let dry. Once dry, apply a top coat for maximum corrosion protection.
Product Code: 9022
Size:
Case Pack:
Our products are available at many retail locations. To find a store near you, please click on WHERE TO BUY.
You may also purchase our products using our online store by clicking BUY NOW CANADA or BUY NOW USA.
No demonstration available.