☰

Solvents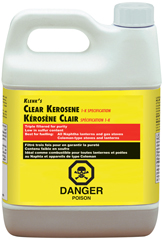 Klenk's Clear Kerosene
Klenk's Clear Kerosene is triple filtered for purity. It complies with 1-K specification and is low in sulfur content. Clear Kerosene is best for refueling all naphtha lanterns and gas stoves, as well as Coleman-type stoves and lanterns.
Use Klenk's Clear Kerosene to refuel low odour heaters, lanterns and stoves. Low in sulfur content. Fill appliances away from heat or open flame. Never refill when flame is warm. Do not use for starting fires.
Product Code: 9040
Size:
Case Pack:
3.78 L (1 gal)
2
18.9 L (5 gal)
1
TRIPLE FILTERED
1-K SPECIFICATION
LOW SULFUR
Our products are available at many retail locations. To find a store near you, please click on WHERE TO BUY.
You may also purchase our products using our online store by clicking BUY NOW CANADA or BUY NOW USA.
No demonstration available.